Climate and Best Time to Visit Recife, Brazil
To help you plan your trip to Recife and adapt it accordingly, here is some important information about the regional climate and ideal times to travel.
Recife is the capital of the state of Pernambuco and is located in the Northeast of Brazil. The city's tropical climate has high temperatures and strongly varying amounts of precipitation throughout the year. Due to these factors, the year is not divided into the seasons we know in Central Europe, but rather into dry and rainy seasons.
Here you can find all the travel packages and further information about the region.
Water temperatures in the Atlantic Ocean off the coast of Recife are warm year round at 26 °C to 29 °C (79 °F to 84 °F). Due to the increased presence of sharks, however, sunbathing on the city's beaches (the most famous being Boa Viagem) is not recommended. For a beach getaway, the safest bet would be to plan an excursion, for example to the nearby town of Porto de Galinhas, where there are no sharks.
The rainy season in Recife lasts from March to August with measurements between 200 mm and 370 mm (7.9 in to 14.6 in) of precipitation. The weather throughout these months is humid with hot temperatures and is often perceived as muggy. Daytime high temperatures are between 27 °C and 30 °C (81 °F to 86 °F), while the lowest temperatures on cooler days are still warm at 20 °C to 23 °C (68 °F to 73 °F). You can enjoy between 5 and 7 hours of daily sunlight.
The dry season, from September to February, is much more conservative on rainfall at 50 mm to 140 mm (2 in to 5.5 in) per month. The weather is very hot throughout the dry season with high temperatures of 28 °C to 30 °C (82 °F to 86 °F) on average. Seldom do temperatures drop more sharply, but in those cases they remain at a warm 21 °C to 23 °C (70 °F to 73 °F). During the dry season you can enjoy between 7 and 9 hours of daily sunlight.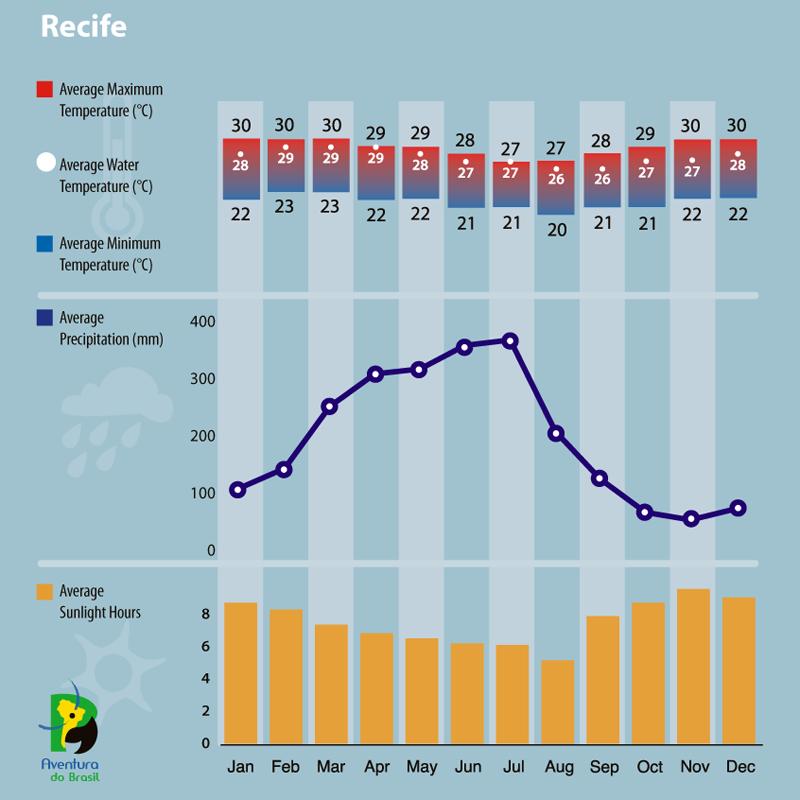 Best Time to Visit Recife
Recife is generally a year-round destination. However, the best time to travel depends on your vacation preferences. To identify the best time for a trip to Recife, please note the following tips:
During the rainy months from March to August, heavy rainfall is to be expected in Recife. If you are planning excursions in the beautiful surroundings or a beach getaway in one of the surrounding seaside resorts, such as Porto de Galinhas, these months are less suitable. Also, for discovery tours in the city of Recife and in Olinda, the rain can be disturbing. If you are planning your vacation for these months, be sure to always have a good rain cover with you.
The best time to visit Recife would be during the dry season from September to February. This time of year grants you the maximum amount of the daily sunlight in Recife, not to mention the hot and dry weather.For you stay we recommend the Hotel Atlante Plaza.
10 Days of Culture, Nature, and Beaches
Brazil | Recife, Porto de Galinhas, Sao Miguel dos Milagres, Maceio, Penedo, Aracaju, Imbassai, Salvador
On this self drive tour through the Northeast of Brazil you will explore the unique coastal section from Recife to Salvador. Bask by picturesque beaches, crystal clear waters, panoramic landscapes, and colonial flair and discover the diverse surroundings and the unique Brazilian way of life on your own.
3 Days of Culture and History
Brazil | Recife, Olinda
The wonderful colonial combination of Olinda and Recife is the perfect gateway to the Fernando de Noronha archipelago – a UNESCO World Natural Heritage site. Olinda, also a UNESCO Heritage site, offers its visitors colorful historic houses and centuries-old baroque churches and monasteries. Recife is named after the reefs on its beautiful Boa Viagem beach, while the city also offers impressive contrasts between old and new architecture. Your accommodation will be the charming and comfortable Pousada dos Quatro Cantos in Olinda.