Climate and Best Time to Visit Natal, Brazil
To help you plan your trip to Natal, we have put together some important information about the regional climate and ideal times to travel.
Natal is located in the Northeast of Brazil in the state of Rio Grande do Norte near the equator. The region's tropical climate brings hot and humid weather year round. As temperatures differ only slighty throughout the year, it is divided into a rainy and a dry season instead of the seasons we know in Europe.
Here you will find all the travel packages and further information about the region.
The rainy season in Natal lasts from March to July with average rainfall of 190 mm to 240 mm (7.5 in to 9.4 in). The weather during this time is consistently very warm to hot with daytime high temperatures averaging at 28 °C to 31 °C (82 °F to 88 °F). Even in slightly cooler periods, the daily lows are still warm around 20 °C to 23 °C (68 °F to 73 °F). The ocean temperatures on the beaches are pleasantly warm during the rainy season at 27 °C to 29 °C (81 °F to 84 °F). During these months you will experience an average of 6 to 7 hours of daily sunlight on your vacation.
During the dry season, which lasts from August to February, precipitation is low at 10 mm to 100 mm (0.4 in to 3.9 in) per month. Temperatures are consistently high during the dry season with average daily highs of 29 °C to 31 °C (84 °F to 88 °F). The lowest daytime temperatures remain warm at 21 °C to 23 °C (70 °F to 73 °F). In addition, you can enjoy very warm water temperatures between 27 °C and 28 °C (81 °F to 82 °F) on the beaches. Daily sunlight is much better at this time with up to 9 hours.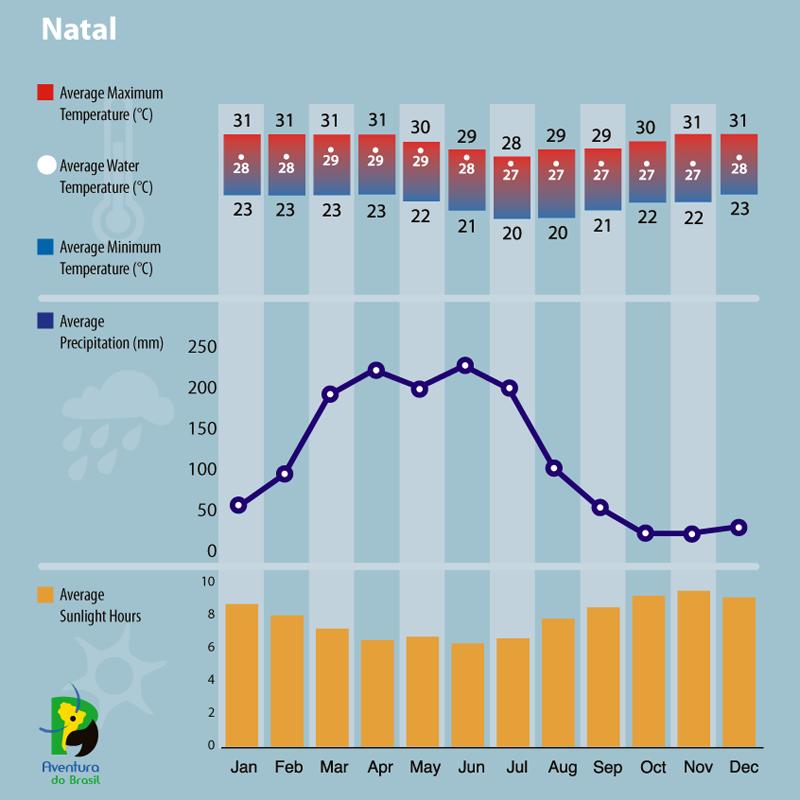 Best Time to Visit Natal
Natal is an attractive destination for your vacation in Brazil due to the consistently hot weather and warm water temperatures throughout the year. Beach lovers come year after year in large numbers. The best time to travel depends, among other things, on your vacation preferences.
During the rainy season from March to July, heavy rainfall is to be expected constantly. It usually rains in the late afternoon. If you want to travel to Natal during these months, be sure to bring a good rain jacket or umbrella. Beach getaways are not always possible during this time, despite the high temperatures.