Climate and Best Time to Visit Porto Seguro, Brazil
To help you plan your trip to Porto Seguro, we have compiled below some important information about the regional climate and ideal times to travel.
Porto Seguro and Bahia, like most regions in Brazil, are located in the southern hemisphere. This means that the seasons are opposite of those we know in Central Europe. Winter is from June to August and summer from December to February. Porto Seguro's tropical climate offers warm to hot temperatures year round.
Here you can find all the travel packages and further information about the region.
During the summer, the daily temperature high is 29 °C to 30 °C (84 °F to 86 °F), and even on slightly cooler days the temperatures rarely drop below 20 °C (68 °F). Summer is the driest season with only 100 mm to 140 mm (3.9 in to 5.5 in) of rain per month. In addition, travelers also experience the maximum amount (up to 7 hours) of daily sunlight.
Fall (March to May) is the rainiest season in Porto Seguro, when between 120 mm and 180 mm (4.7 in to 7.1 in) of rain are recorded per month. The weather, however, remains continuously warm with temperatures varying between 20 °C and 30 °C (68 °F to 86 °F). The days are mostly sunny and warm, while at night it can cool down a bit. Heavy downpours occur more frequently in the late afternoon.
There can also be a lot of rain in the winter from June to August. Average rainfall during these months is from 90 mm to 170 mm (3.5 in to 6.7 in) per month. It can occasionally become cooler with daily low temperatures of 18 °C to 19 °C (64 °F to 66 °F). In general, however, the weather in Porto Seguro stays warm during this time of year and the thermometer often climbs to 25 °C (77 °F) and higher.
Spring (September to November) offers travelers pleasantly warm weather with temperatures fluctuating between 19 °C and 28 °C (66 °F to 82 °F). However, rainfall must be expected constantly. Between 130 mm and 160 mm (5.1 in to 6.3 in) of rain are recorded per month during this period.
Water temperatures in the Atlantic Ocean off the coast of Porto Seguro are always pleasantly warm at 25 °C to 28 °C (77 °F to 82 °F), making it very suitable for beach getaways year round.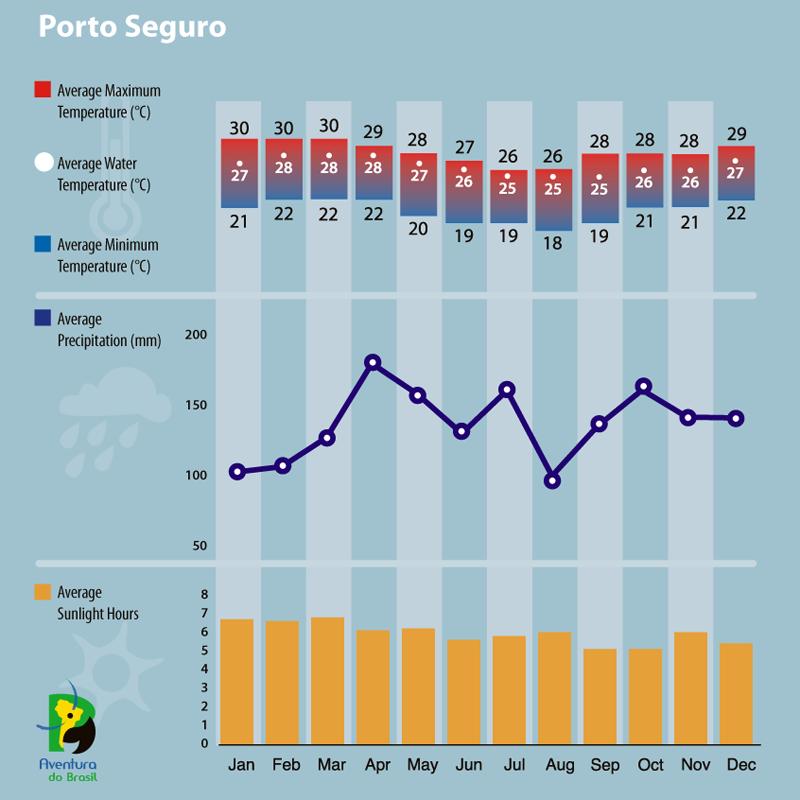 Best Time to Visit Porto Seguro
Porto Seguro is worth a visit as a city in its own right due to its historical background and beautiful scenery. But mainly the coastal town is used as a destination for beach getaways. Due to the year-round warm to hot weather and the pleasant water temperatures, the city is very suitable for this purpose and can be visited year round.
As the city is located in a region dominated by tropical climate, constant rainfall is to be expected. The rainiest months in Porto Seguro are January and February, which would be wise to avoid for a beach getaway.