Climate and Best Time to Visit Bento Goncalves, Brazil
The South of Brazil and the mountainous region of Serra Gaucha is characterized by a mild subtropical climate, which is quite similar to the Mediterranean climate. There are cold, short winters from May to August and long, warm but still rainy summers from October to March. In between are the transition months of spring and fall. Throughout the year the temperature is generally in the range of 7 °C to 28 °C (45 °F to 82 °F) and very rarely below 0 °C (32 °F) on winter nights or above 32 °C (90 °F) on summer days.
Precipitation is relatively steady throughout the year at around 150 mm (5.9 in). There is no dry season like in the Central or Northern parts of Brazil in the region surrounding Bento Goncalves. In recent years, the summers have probably been drier due to climate change, which has resulted in even better wine quality.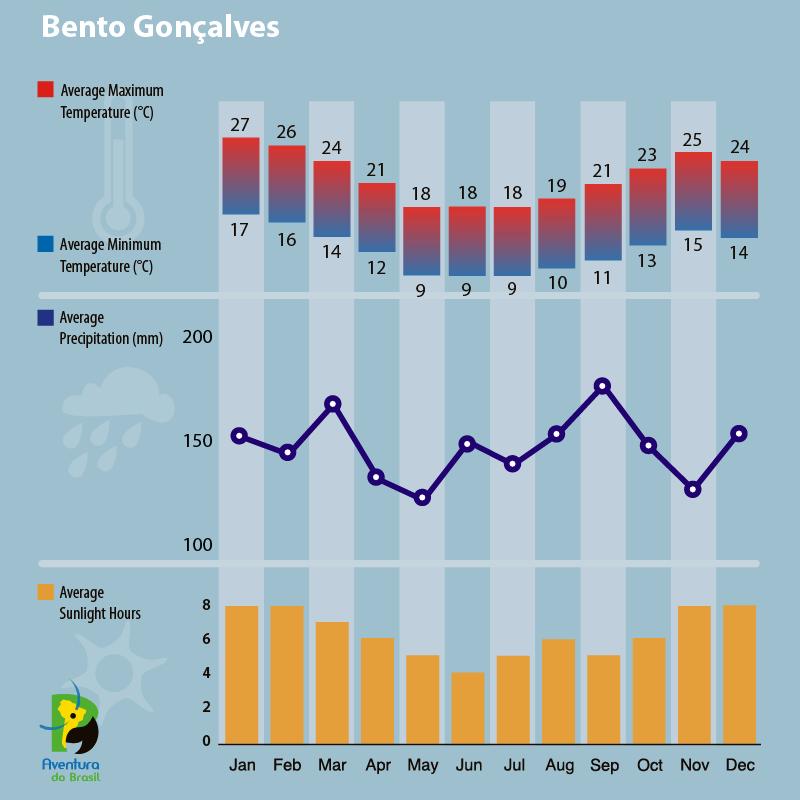 Best Time to Visit Bento Goncalves
The scenic and culinary highlights make the region an interesting travel destination year round. It is especially beautiful because of the warm temperatures in the summer months from November to March. Most visitors arrive from mid-January onwards. When the grape harvest begins, various types of wine and sparkling wine are offered and tasted at wineries and in cellars.

7 Days of Culture, Hiking, and Beaches
Brazil | Porto Alegre, Bento Goncalves, Praia Grande, Florianopolis
Let yourself be enchanted by the diversity of the South of Brazil during this trip by rental car. From Porto Alegre you will start your journey to the most popular wine region in the country and learn about the history of Italian immigration and local wineries first hand. In the interior of the country, you will hike and admire an impressive landscape with canyons 3,000 feet (900 meters) deep and up to 160 miles (250 kilometers) long. You design your daily program and determine the rhythm of your journey. On the way to the "Magic Island" of Florianopolis, many interesting places pull you in every direction. Enjoy the rich cultural and culinary offerings as well as the region's exuberant hospitality.