Climate and Best Time to Visit Alter do Chao, Brazil
To help you plan your trip to Alter do Chao, in the northern state of Para, we have compiled below some information about the regional climate and ideal times to travel.
The small village of Alter do Chao is located at the mouth of the Rio Tapajos, extending into the Amazon, and surrounded by several small rivers that form wide wetlands. During the rainy season, precipitation accumulates up to 350 mm (13.8 in) on average and the water level of the Tapajos rises by almost 5 m (16.4 ft) compared to the dry season. As a result, the surrounding forests become flooded and can be traversed via canoe. While gliding silently through the trees, wildlife can be observed especially well. When the water level falls after the rainy season, the Tapajos is lined with white sandy beaches as far as the eye can see. Average rainfall drops to 50 mm (2 in) from August to November.
Temperatures in Alter do Chao are very warm year round, averaging at 27 °C (81 °F). Daytime highs usually reach 32 °C (90 °F), and even at night the thermometer rarely falls below 20 °C (68 °F). It gets coolest during the early-morning hours and on some days during the rainy season. It is therefore worthwhile to start excursions and tours very early. At noon and in the early afternoon, hot temperatures and intense sunlight are best weathered in a hammock under a shady area on the riverbank or with a hat as you enjoy a refreshing dip in the water.
For the most part, travelers view the Amazon's climate as very hot and humid. Especially after a rain shower at midday and the ensuing sunshine, the humidity rises to almost 100%. The best place to spend these hours is at the beach or in the shady and cool Igarapes, as the small rivers in the jungle are called.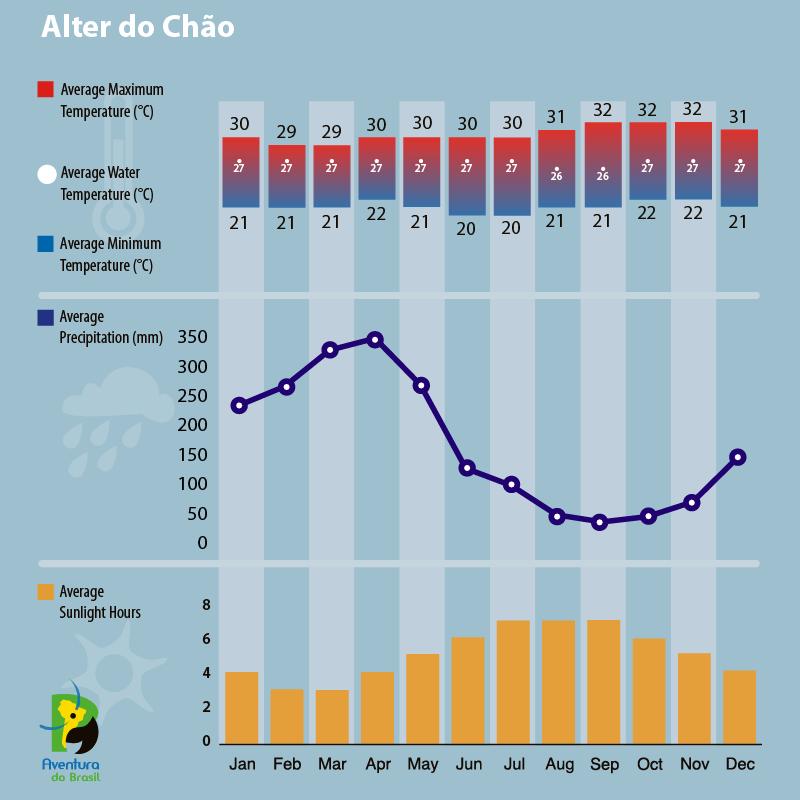 Best Time to Visit Alter do Chao
A trip to Alter do Chao is worthwhile throughout the year, as each month has its own special features. However, during the rainy season, from January to May, there can be heavy showers. From February to June, the flooded riverside forests can be navigated by canoe. The white beaches along the Rio Tapajos appear from July onwards and can be thoroughly enjoyed in the sunnier months until December.