Climate and Best Time to Visit Porto de Galinhas, Brazil
To help you plan your trip to Porto de Galinhas, in the state of Pernambuco, we have collected some important information about the regional climate and ideal times to travel.
Porto de Galinhas is located in the Northeast of Brazil and is therefore quite close to the equator. The tropical climate offers you warm to hot weather year round. Therefore, this idyllic fishing village, which has become one of Brazil's most popular seaside resorts in recent years, is ideal for a beach getaway. Since temperatures do not change very much, the year is not divided into the seasons we know in Central Europe, but rather into a dry and a rainy season.
Here you can find all the travel packages and further information about the region.
The rainy season usually lasts from March to August and brings heavy rainfall and muggy weather. Average precipitation is 190 mm to 340 mm (7.5 in to 13.4 in) per month. High temperatures reach upwards of 26 °C to 29 °C (79 °F to 84 °F). Occasionally it cools down a little, but even the lowest temperatures are still warm at 20 °C to 22 °C (68 °F to 72 °F). The rainy season will provide you with 5 to 7 hours of daily sunlight during your stay in Porto de Galinhas.
During the dry season, which lasts from September to February, rainfall is less prominent at only 50 mm to 130 mm (2 in to 5.1 in) per month. The weather is a little hotter with daily highs around 27 °C to 30 °C (81 °F to 86 °F). Even on cooler days the temperatures rarely drop below 20 °C (68 °F). Sun worshipper can enjoy 7 to 9 hours of daily sunlight during this time.
Water temperatures on the beaches of Porto de Galinhas are pleasantly warm throughout the year with an average of 26 °C to 29 °C (79 °F to 84 °F), making them ideal for a relaxing beach getaway.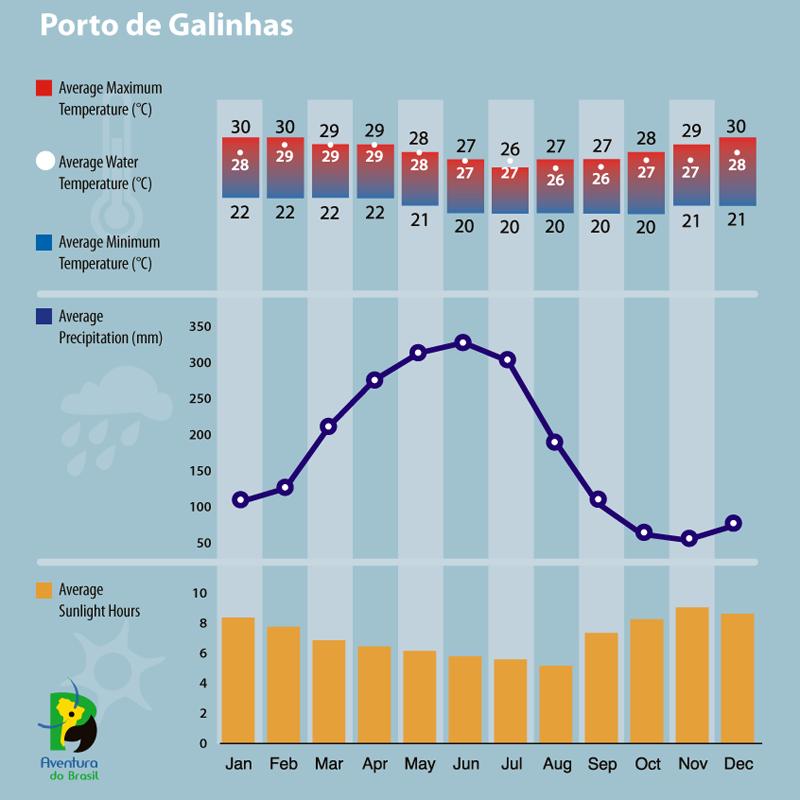 Best Time to Visit Porto de Galinhas
Porto de Galinhas is an ideal destination for a beach getaway in Brazil year round. Continuous warm weather and pleasant water temperatures make it a perfect beach resort on the northeastern coast of Brazil.
It would be wise to avoid the rainy months from March to August, in order to not spoil your time on the beach.
10 Days of Culture, Nature, and Beaches
Brazil | Recife, Porto de Galinhas, Sao Miguel dos Milagres, Maceio, Penedo, Aracaju, Imbassai, Salvador
On this self drive tour through the Northeast of Brazil you will explore the unique coastal section from Recife to Salvador. Bask by picturesque beaches, crystal clear waters, panoramic landscapes, and colonial flair and discover the diverse surroundings and the unique Brazilian way of life on your own.