Climate and Best Time to Visit Campo Grande, Brazil
For optimal planning of your trip to Campo Grande, in the state of Mato Grosso do Sul, we have collected some important information about the regional climate and ideal times to travel.
Campo Grande's tropical climate is a continuous source of warm to hot weather. Despite little fluctuation in temperature, seasons can be discerned. However, due to the city's location in the southern hemisphere they are the opposite of those in central Europe. The hot and humid summer lasts from December to February and in the winter, from June to August, you will experience cooler and drier weather.
Here you can find all the travel packages and further information about the region.
During the day, high temperatures in the summer are between 29 °C and 30 °C (84 °F to 86 °F). Daily low temperatures center around 19 °C to 20 °C (66 °F to 68 °F). The humid summer months usually bring a lot of precipitation, with an average of 180 mm to 230 mm (7.1 in to 9.1 in) per month. On a summer's day in Campo Grande you can enjoy an average of 7 hours of daily sunlight.
In the fall (March to May), the weather is also very warm with average high temperatures of 27 °C to 30 °C (81 °F to 86 °F) during the day. Even on the cooler days the average temperature is still 15 °C to 18 °C (59 °F to 64 °F). Precipitation decreases steadily in the fall to about 90 mm to 160 mm (3.5 in to 6.3 in) per month with an average of 6 to 8 hours of sunlight.
The winter in Campo Grande offers warm temperatures and low precipitation rates. During the day, the temperature high reaches 26 °C to 28 °C (79 °F to 82 °F) and occasionally there are lower temperatures of 13 °C to 15 °C (55 °F to 59 °F). It can get colder especially at night. An average of only 30 mm to 50 mm (1.2 in to 2 in) of rain per month is expected during the winter. In addition, winter offers sunny days with 7 to 8 hours of daily sunlight.
In the spring (September to November), warm and sunny temperatures vary between 17 °C and 30 °C (63 °F to 86°F) with average rainfall. Spring then ushers in a renewal in precipitation, averaging 70 mm to 170 mm (2.8 in to 6.7 in) per month.
Diagram showing the climate in Campo Grande, Brazil.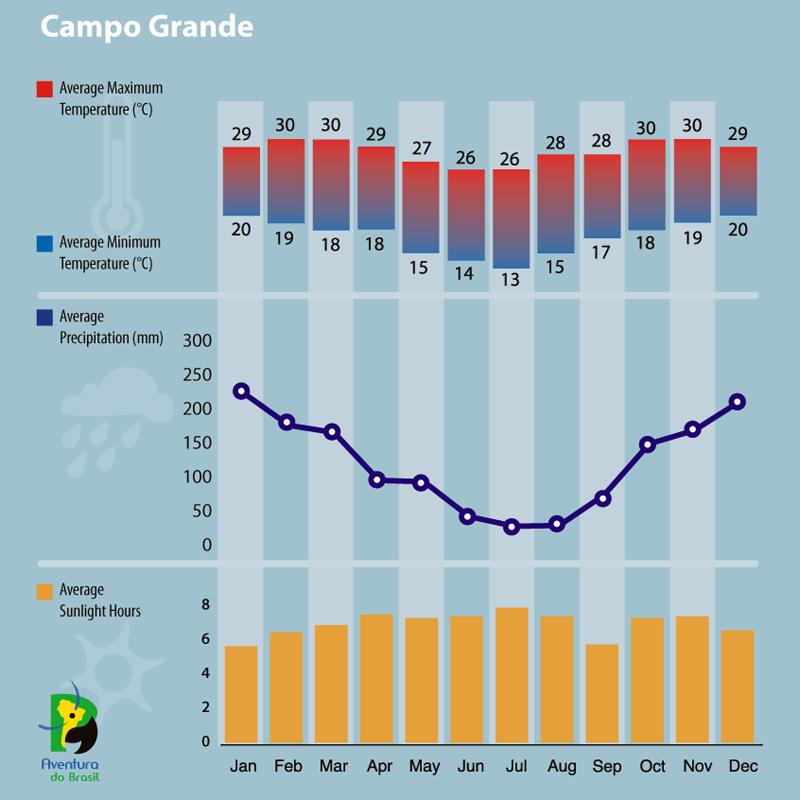 Best Time to Visit Campo Grande
In general, Campo Grande and the South Pantanal can be well traveled year round and are attractive destinations for your vacation in Brazil. Since the city is usually considered a starting point for excursions into the South Pantanal region, you should also include this area in your planning. To help you identify the best time to travel that suits your vacation preferences, please note the following information:
Rainfall rates are particularly high between October and March. During this time it can be difficult to drive on some roads in the South Pantanal region. In addition, wildlife observation could be a bit bit harder than usual.
6 Days of Nature, Wildlife Observation, and Snorkeling
Brazil | Campo Grande, South Pantanal, Bonito
This trip will take you to the natural paradise of the South Pantanal. You will also get to know the unique nature and crystal clear rivers near Bonito. The Pantanal is a vast area of wetlands and one of the largest nature reserves in the world. In the dry season, from June to October, you can explore the whole variety of the incomparable animal world and in the rainy season, from December to March, the beautiful flora reaches its peak. Let the fascinating biodiversity of the Pantanal enchant you!
4 Days of Adventure, Nature, and Snorkeling
Brazil | Bonito
During this 4-day trip to Bonito you will experience this natural paradise at its finest. You will snorkel in crystal clear rivers embedded into a wonderful landscape, visit a subterranean blue lagoon inside a cave, and go on a nature hike to observe the beautiful red macaw. Through the whole trip you will be accompanied by an English-speaking guide who is specialized in this area of Brazil.