Climate and Best Time to Visit Aracaju, Brazil
For optimal itinerary planning, we have summarized below some information about the regional climate and ideal times to travel to Aracaju in the state of Sergipe.
The tropical climate along the northeastern coast is characterized, as in most parts of Brazil, by two seasons: the rainy season and the dry season. Due to geographic location, the monthly high and low temperatures hardly fluctuate. It gets warmest between November and March with an average of 30 ºC (86 ºF) and somewhat fresher between June and August with an average of 27 ºC (81 ºF). Nightfall is not always analogous to cooler temperatures, with an expectation of 20 ºC (68 ºF) year round.
The rainiest months are April, May, June and July which can accumulate up to 250 mm of rainfall per month. After that the dry season begins and rainfall decreases to about 50 mm per month.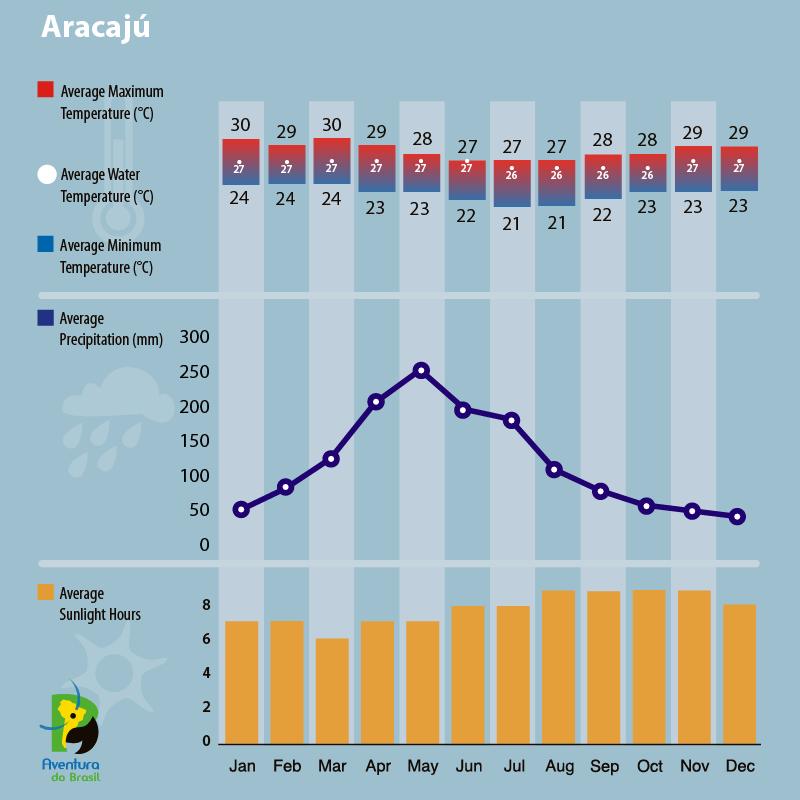 Best Time to Visit Aracaju
The surrounding region of Aracaju is a year-round destination with an average temperature of 26 ºC (79 ºF) and constant water temperatures of 27 ºC (81 ºF). Occasional clouds may appear in the sky should you choose to enjoy your vacation during the short rainy season between April and July. But in the remaining months of the year sunshine will be guaranteed for unlimited sunbathing along the coast.

10 Days of Culture, Nature, and Beaches
Brazil | Recife, Porto de Galinhas, Sao Miguel dos Milagres, Maceio, Penedo, Aracaju, Imbassai, Salvador
On this self drive tour through the Northeast of Brazil you will explore the unique coastal section from Recife to Salvador. Bask by picturesque beaches, crystal clear waters, panoramic landscapes, and colonial flair and discover the diverse surroundings and the unique Brazilian way of life on your own.