Climate and Best Time to Visit Curitiba, Brazil
To help you plan your trip to Curitiba, we have compiled below some important information about the regional climate and ideal times to travel.
Curitiba, like most of Brazil, is located in the southern hemisphere. This means that on your trip you will experience the seasons at different times of year compared to Europe. The Brazilian winter lasts from June to August and the summer months are from December to February. Due to the region's subtropical climate, your vacation will consist of a hot and humid summer and a cool and dry winter. Curitiba offers about 4 to 5 hours of sunlight year round.
Here you can find all the travel packages and further information about the region.
The summer months (December to February) are usually very rainy in the city with an average of 150 mm to 200 mm (5.9 in to 7.9 in) per month. In addition, there is warm to hot weather, which during the day leads to high temperatures of up to 25 °C (77 °F). However, some days can be a little cooler. The lowest temperatures during the day average around 15 °C to 16° (59 °F to 61 °F).
Fall (March to May) brings slightly cooler weather with average rainfall. The average temperature during the day does not exceed 20 °C to 24 °C (68 °F to 75 °F) and in some places, especially at night, it cools down more. In the fall you can expect average daily temperatures of 9 °C to 15 °C (48 °F to 59 °F) during your vacation in Curitiba. The average rainfall during this time is 90 mm to 140mm (3.5 in to 5.5 in) per month.
If you plan your trip during the winter months (June to August), you will experience cool, dry weather. Occasionally there may be warm, very sunny days, but usually the temperatures drop sharply during the day. At night the thermometer can drop below 5 °C (41 °F). Daily high temperatures rise up to 20 °C (68 °F). On cooler days, however, there are also lows of up to 7 °C (45 °F) on average. The winter months in Curitiba have the least amount of rain throughout the year, only 70 mm to 100mm (2.8 in to 3.9 in).
Spring (September to November) is characterized by rising temperatures and average rainfall rates. The weather becomes steadily warmer with fluctuating average temperatures of 10 °C to 24 °C (50 °F to 75 °F) with about 120 mm to 140 mm (4.7 in to 5.5 in) of precipitation.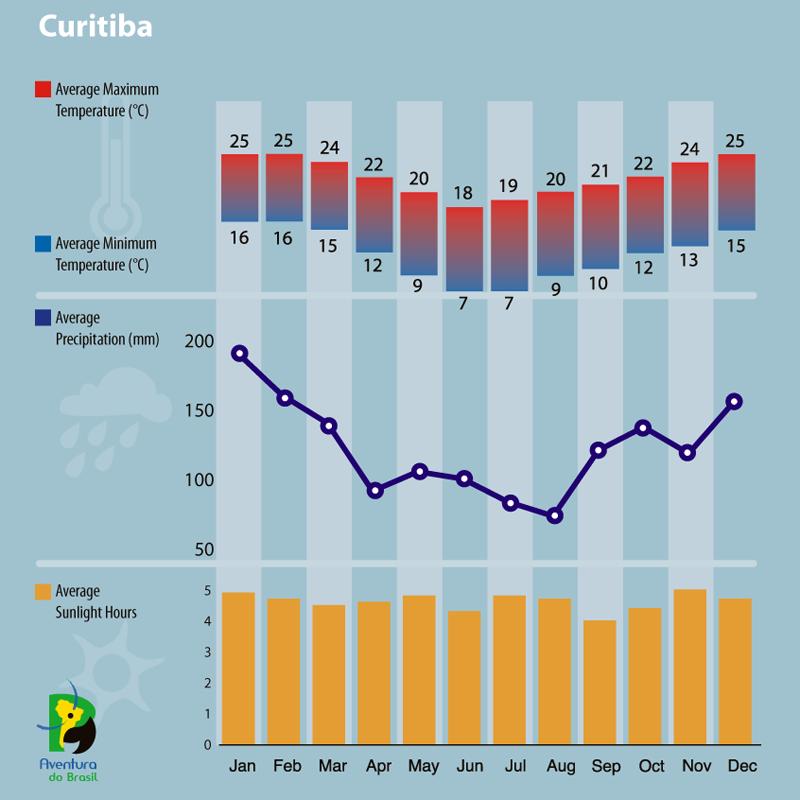 Best Time to Visit Curitiba
Curitiba is generally an attractive destination for your trip to Brazil year round. The optimal time for your stay depends, among other things, on your vacation preferences. Below are some tips that can help you identify the best time to travel:
During the summer months, the weather in Curitiba is very warm and rarely cools down. However, these months are also the rainiest. So if you want to take advantage of the warmest time of the year, you should be prepared with good rain protection (jacket, umbrella).
9 Day Individual Tour by Bus, Train, and Boat
Brazil | Sao Paulo, Foz do Iguacu, Curitiba, Ilha do Mel
A trip to Brazil could hardly be more varied. Experience the pulsating international metropolis of Sao Paulo, the impressive waterfalls in Foz do Iguacu, the beautiful city of Curitiba, a train ride through the dense Atlantic Rainforest, and the romantic and untouched beauty of Ilha do Mel (Honey Island). This 9-day journey by land will take travelers through the South of Brazil and combine some of the country's main attractions with unique natural experiences and deep insight into Brazilian culture.
4 Days of Nature, Leisure, and Beaches
Brazil | Curitiba, Ilha do Mel
Ilha do Mel (Honey Island) is located approximately 71 miles (115 kilometers) from Curitiba and is by far the most beautiful place the coast of this area has to offer. The island is ideal for nature lovers and hikers. As 90% of the land is within a preservation area, Ilha do Mel is a great place to wander through unspoiled nature and enjoy gorgeous beaches. The island is free of cars, which means you need to walk, rent a bike, or take a taxi boat to get around.