Climate and Best Time to Visit Ilheus, Brazil
In order to facilitate your stay in Ilheus, we have provided below some important information about the regional climate and ideal times to travel.
Ilheus is a coastal city in the northeastern state of Bahia, in a zone dominated by the tropical climate of the Atlantic Rainforest.
Therefore, similar to the Amazon, rainfall can occur year round with very little change in temperature. It While it does rain less from August to January than from February to July, the differences are minute.
These steady and predicatble climate patterns result in lush vegetation, diverse wildlife and the growth of impressively giant trees in this coastal rainforest, which are among the most unique of their kind in the entire world. The biodiversity of the Atlantic Rainforest, spanning from different animals to plants, is even greater than in the Amazon region. This is why it is so easy to observe wildlife during a walk through the forest, such as the golden-headed lion monkey in the area of Fazenda Almada.
In the midst of this tropical, fertile climate, the cocoa trees and dende palms of the local farmers, who gave the coastal strip between Ilheus and Salvador its name, thrive alongside many other tropical fruits.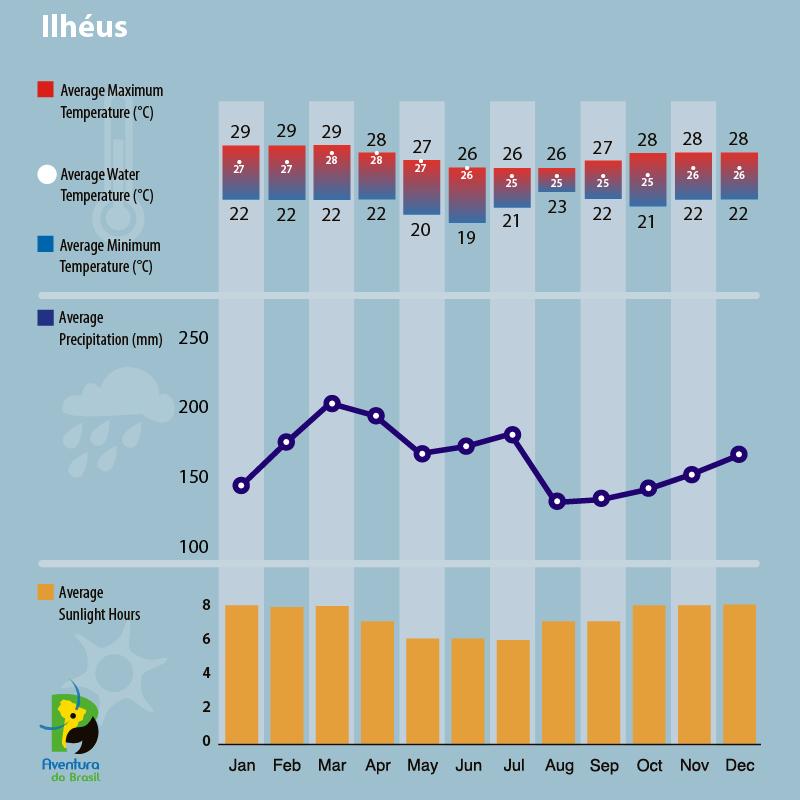 Best Time to Visit Ilheus
Ilheus is recommended as a year-round destination due to its homogeneous climate patterns and pleasant temperatures of 25 °C (77 °F). January is the warmest month with temperatures around 26 °C (79 °F). In June it gets slightly cooler at 23 °C (73 °F).
Rainfall in the region increases to about 200 mm (7.9 in) from August to March and then decreases again in the remaining months with measurements of around 130 mm (5.1 in), although the amount of daily sunlight remains relatively constant. This means that in the rainier months there can be heavy thunderstorms.
The combination of temperature and precipitation results in high humidity, which may seem cumbersome to some travelers. However, unlike in the Amazon region, the sea winds along the coast provide fresher air, creating pleasant travel weather year round.
With our travel packages you can experience the Cocoa and Dende coast of Brazil on different excursions and discover the great variety of flora and fauna.
9 Days of Culture, Beach, and Nature
Brazil | Salvador, Cachoeira, Itacare, Ilheus
On this nine-day journey of self-discovery you will experience the state of Bahia in its most varied forms. In a rental car you will travel along the Cocoa and Dende coast from Salvador to Itacare. On the way you will discover paradise-like beaches, colonial towns, mangroves, and the Atlantic Rainforest. Active travelers in particular will get their money's worth with various outdoor activities during this tour. Bahia is considered the cultural center of Brazil and impresses all with its Afro-Brazilian traditions in gastronomy and music.