Climate and Best Time to Visit Sao Miguel do Gostoso, Brazil
To help you plan your trip to Sao Miguel do Gostoso, we have compiled below some important information on the regional climate and ideal times to travel. The town is located directly on the coast in the state of Rio Grande do Norte and attracts many tourists with miles of white sandy beaches and the best conditions for sunbathing year round.
The tropical coastal climate is mainly characterized by one thing: continuously hot temperatures and a whole lot of sun. The short rainy season falls from March to May, whereby even then, precipitation only measures to around 100 mm (3.9 in). Temperatures reach 30 °C (86 °F) year round and do not fall below 20 °C (68 °F) even at night. It can be a bit fresher in the winter in July, but the difference in temperature, of roughly 3 °C (5 °F), compared to the other months is hardly noticeable.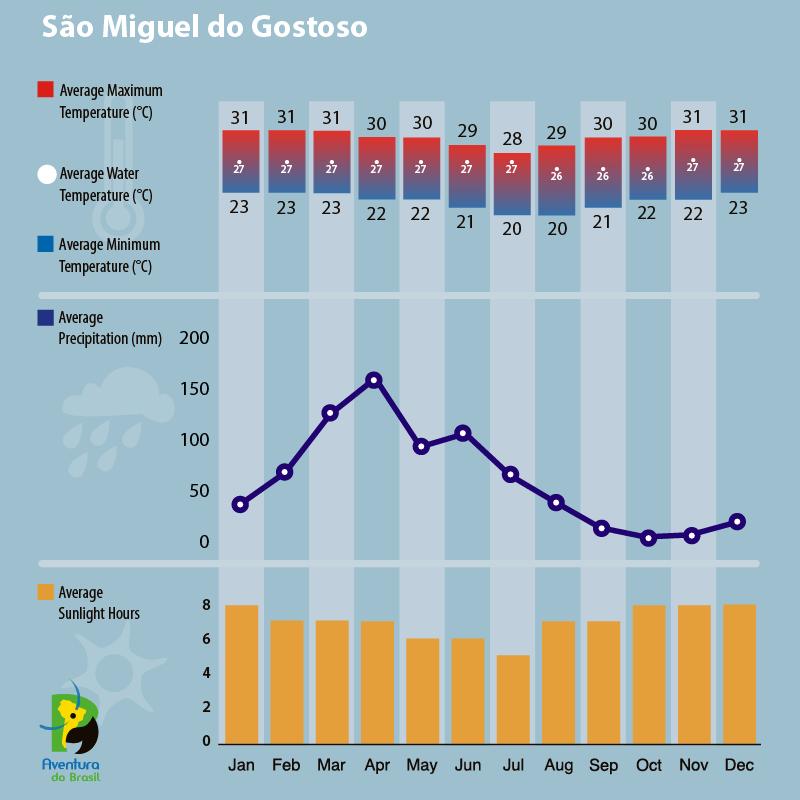 Best Time to Visit Sao Miguel do Gostoso
The coastal resort offers excellent conditions for a beach getaway year round. In March, April and May there can be rainy days, but temperatures remain around 30 °C (86 °F). Sao Miguel do Gostoso is an ideal destination for all sun worshippers, especially from June to February.