Climate and Best Time to Visit Fortaleza, Brazil
For effective planning of your vacation in Fortaleza, you will find below some important information about the regional climate and ideal times to travel.
Fortaleza is located in the northern state of Ceara, and is therefore close to the equator. This location results in a tropical climate, which gives travelers warm to hot temperatures year round and excellent weather for swimming. As temperatures fluctuate very little, the year is divided into dry and rainy seasons rather than the seasons we know in Europe.
Here you can find all the travel packages and further information about the region.
The rainy season in Fortaleza lasts from January to June and brings a lot of rain, with an average of 100 mm to 350 mm (3.9 in to 13.8 in) during these months. On your trip you can expect high temperatures of 22 °C to 30 °C (72 °F to 86 °F) on average. The days are mostly sunny and clear and heavy downpours usually occur in the late afternoon. The ocean off the coast of the city is very ideal for swimming and offers water temperatures averaging around 28 °C to 29 °C (82 °F to 84 °F). You can experience an average of 5 to 8 hours of daily sunlight during the rainy season.
During the dry season, which lasts from July to December in Fortaleza, there is very little rain. The average rainfall rate is only 0 mm to 70 mm (0 in to 2.8 in) per month. Temperatures, however, remain very warm throughout, just like in the rainy season, with daytime high temperatures of 29 °C to 30 °C (84 °F to 86 °F). Even in somewhat cooler times, the lowest temperatures are still between 21 °C and 24 °C (70 °F to 75 °F). Water temperatures in the ocean are consistently warm, averaging around 27 °C to 28 °C (81 °F to 82 °F). During the dry season you can enjoy 6 to 9 hours of daily sunlight during your vacation.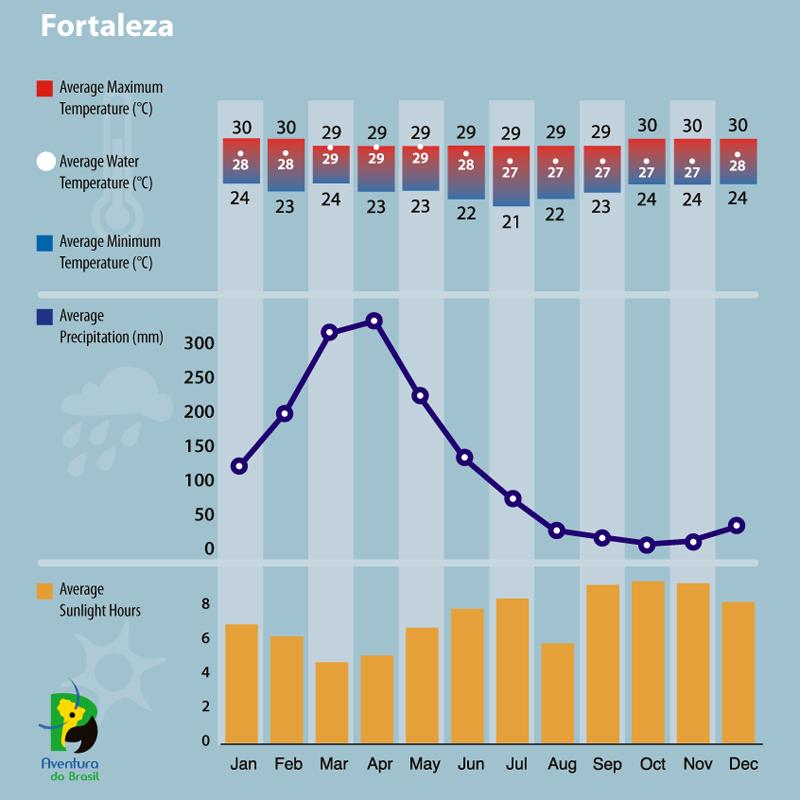 Best Time to Visit Fortaleza
In general, Fortaleza is an interesting destination year round and is particularly popular for beach getaways in Brazil. There are other places in the surrounding region, such as Jericoacoara, that are ideal for swimming and water sports.
Constant rainfall is to be expected during the rainy season. For beach getaways and discovering the beautiful surrounding areas of Fortaleza, January to June would therefore be less suitable. The temperatures and warm water, however, offer good travel conditions even during this time.
The best time to travel is usually during the dry season from July to December, as there is very little rainfall. The warm to hot weather and the consistently warm water temperatures offer very good conditions for a trip to Fortaleza. In addition, during the dry season you can also enjoy the maximum amount of daily sunlight.
As for accommodations, we recommend the Blue Tree Premium Hotel, which is located very close to Praia de Iracema. From here the city center of Fortaleza can be reached in only a few minutes.
Only a few hours from the city by car is the fishing village of Jericoacoara, which has grown into one of Brazil's most popular seaside resorts. There you can stay, for example, in the charming Pousada Bella Jeri.
7 Days of Beaches, Nature, and Adventure
Brazil | Sao Luis, Lencois Maranhenses, Jericoacoara, Fortaleza
Experience the breathtaking Road of Emotions (Rota das Emocoes). From Sao Luis you will drive through the dunes of Lencois Maranhenses National Park, cross the Delta das Americas by boat, and follow the coast line in a 4x4 beach buggy until you reach the vital beach village of Jericoacoara. Be prepared for freshwater pools in the desert, wonderful sunsets over the dunes and the ocean, and emotional moments in a mesmerizing landscape.