Climate and Best Time to Visit Tiradentes, Brazil
To help you plan your trip to Tiradentes, we have complied below some information about the regional climate and ideal times to travel,
The tropical climate in Tiradentes, in the state of Minas Gerais, is characterized by only two seasons: the rainy season, between October and April, and the dry season from May to September.
The average annual temperature is 20 °C (68 °F), with January, February and March being the warmest months with daytime temperatures around 28 °C (82 °F). It gets cooler in the winter, but even then you can expect 20 °C to 25 °C (68 °F to 77 °F) daily. Only at night can it get quite fresh, dropping to 10 °C (50 °F).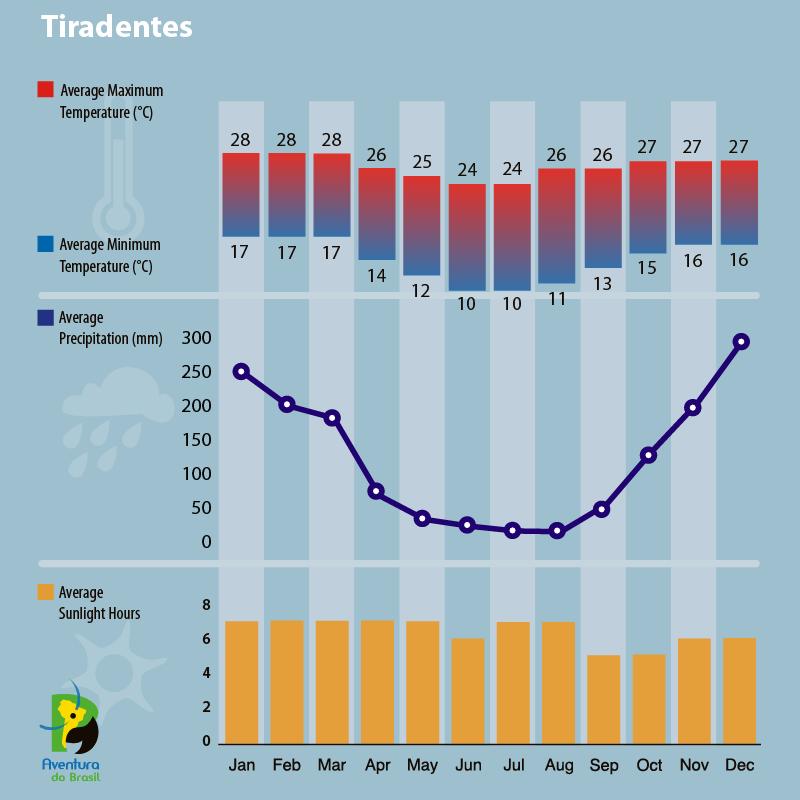 Best Time to Visit Tiradentes
The historic town of Tiradentes is an attractive destination year round. The old town alleys and colonial buildings have their own charm despite the weather. We recommend to visit also the beautiful city Sao Joao del Rei nearby.
From April to September it is very sunny with little precipitation and cooler temperatures. It is very warm and rainy from October to March.
The weather is usually perceived by travelers as very pleasant. Especially during the transition months in April and September, most tourists are extremely satisfied with the climate.