Climate and Best Time to Visit Vitoria, Brazil
For optimal planning of your trip to Vitoria, we have summarized below some important information about the regional climate and ideal times to travel.
The warm, tropical climate along the coast of the state of Espirito Santo is generally determined by two seasons: The rainy season from October to January and the dry season from February to September. The most rainfall occurs in December with up to 7.1 in (180 mm) of precipitation and the least in June with just 2 in (50 mm). Compared to other parts of Brazil, the rainy season is very short and with low precipitation measurements.
The continuously high temperatures and the resulting humidity on the rugged coast make the varied vegetation in and around Vitoria bloom year round. In the territory are mangroves, wet grasslands and the dense Atlantic forest.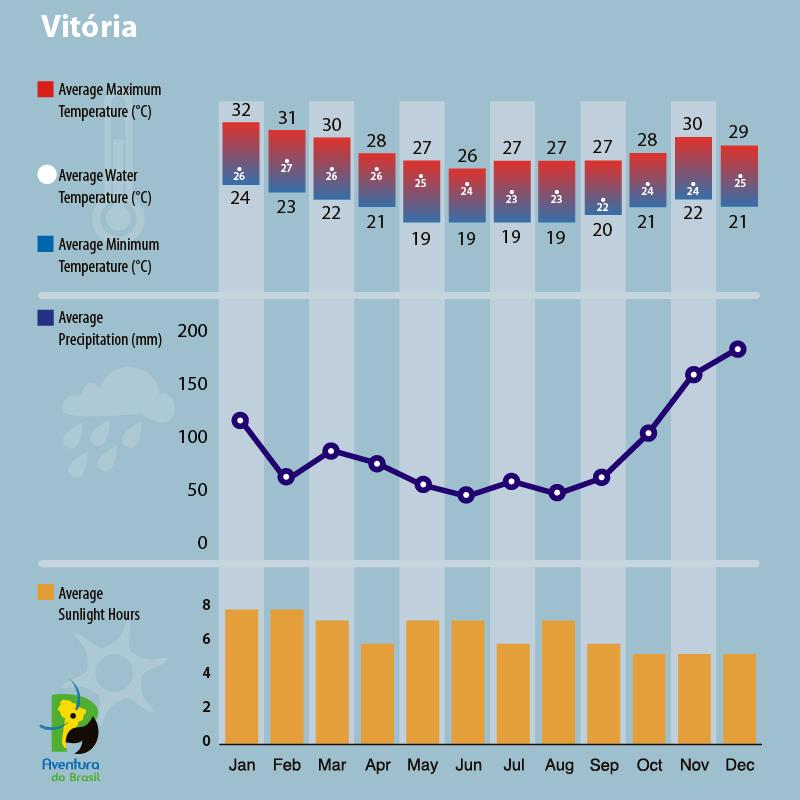 Best Time to Visit Vitoria
The coast of Espirito Santa is recommended as a year-round destination, especially from January to April when daily temperatures rise over 86 °F (30 °C) and the days are increasingly sunny with up to 8 hours of daily sunlight.
In the winter, from May to September, it rains the least and it gets cooler with high temperatures around 75 °F (24 °C). But even then, temperatures do not fall below 64 °F (18 °C) at night.
The combination of temperature and increased rainfall from October to December results in high humidity, which may seem cumbersome to some travelers. However, winds from the Atlantic Ocean refresh the city's climate throughout the year.