Climate and Best Time to Visit Porto Alegre, Brazil
Climate conditions can be an important consideration when planning your vacation, therefore we have compiled below some information about the weather in Porto Alegre and ideal times to travel.
Porto Alegre is located in the South of Brazil within the temperate latitudes. Due to its location in the southern hemisphere, the seasons are opposite of those in Central Europe. Summer is from December to February and winter takes place from June to August.
Here you will find all the travel packages and further information about the region.
In the summer (December to February), Porto Alegre enjoys warm to muggy weather with average high temperatures of 28 °C to 29 °C (82 °F to 84 °F). Occasionally there are also some cooler days when temperatures are only around 20 °C (68 °F). It is a rather dry time with average rainfall of 100 mm to 110 mm (3.9 in to 4.3 in) per month.
Fall (March to May) is also very dry with average rainfall of only about 90 mm to 110 mm (3.5 in to 4.3 in) per month. Temperatures vary greatly between 12 °C and 27 °C (54 °F to 81 °F). Many days are still beautifully warm and sunny, but it can also become much cooler and windier. Especially at night the temperatures can cool down to 10 °C (50 °F).
Winter (June to August) is the rainy season in Porto Alegre with average rainfall of 120 mm to 140 mm (4.7 in to 5.5 in ) per month. Single sunny and warm days alternate with cold weather. Temperatures are usually between 10 °C and 20 °C (50 °F to 68 °F), but it can also (especially at night) sometimes be around 0 °C (32 °F).
Spring (September to November) often offers travelers pleasantly warm temperatures between 21 °C and 26 °C (70 °F to 79 °F). Occasionally, however, cooler temperatures of around 12 °C (54 °F) can also be felt and the nights are often still quite cold. Average rainfall per month during this period is between 100 mm and 150 mm (3.9 in to 5.9 in), so frequent downpours are to be expected in the spring.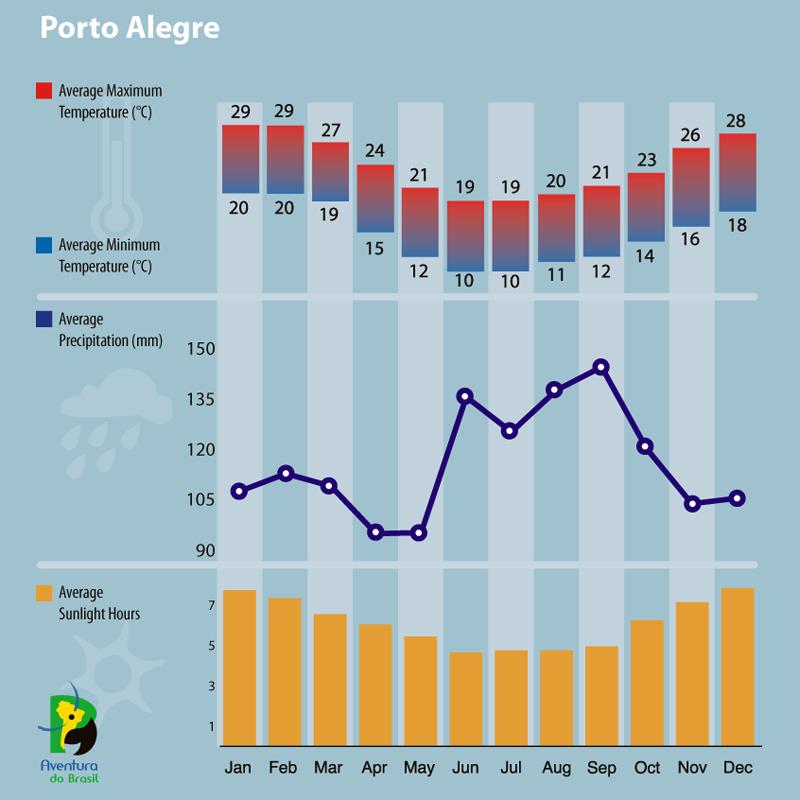 Best Time to Visit Porto Alegre
Porto Alegre is generally well suited as a year-round destination. The climate is similar to that of Southern Europe, so the weather conditions are pleasant for European travelers in all seasons. However, depending on your personal preferences and vacation wishes, please consider a few tips on the climate and ideal times to travel in Porto Alegre.
Winter can be very rainy and cold. If you plan to travel to Porto Alegre during the winter, make sure to bring warm and rainproof clothing and be prepared for cold nights. Heating is not very common in Brazil and houses are often poorly insulated, so temperatures inside are usually not much more comfortable than they are outside (but depending on the accommodation, there may be mobile heaters, a wood-burning stove or a fireplace).

7 Days of Culture, Hiking, and Beaches
Brazil | Porto Alegre, Bento Goncalves, Praia Grande, Florianopolis
Let yourself be enchanted by the diversity of the South of Brazil during this trip by rental car. From Porto Alegre you will start your journey to the most popular wine region in the country and learn about the history of Italian immigration and local wineries first hand. In the interior of the country, you will hike and admire an impressive landscape with canyons 3,000 feet (900 meters) deep and up to 160 miles (250 kilometers) long. You design your daily program and determine the rhythm of your journey. On the way to the "Magic Island" of Florianopolis, many interesting places pull you in every direction. Enjoy the rich cultural and culinary offerings as well as the region's exuberant hospitality.