Climate and Best Time to Visit North Pantanal, Brazil
The North Pantanal is located in the southern hemisphere and therefore has seasons that are opposite of those in Central Europe. However, given that temperatures do not differ too much, the year is usually divided into dry and rainy seasons. The rainiest months are from October to April, while the dry season is from May to September. Due to the tropical climate in the North Pantanal, there are hot temperatures year round and the weather can seem very humid.
Here you can find all the travel packages and further information about the region.
The rainy season from October to April has hot temperatures year round. Daily high temperatures average between 32 °C and 33 °C (90 °F to 91 °F) and even the somewhat cooler temperature lows are still very warm at 20 °C to 23 °C (68 °F to 73 °F). These months are very rainy with precipitation around 100 mm to 250 mm (3.9 in to 9.8 in) per month.
During the dry season, the weather in the North Pantanal is still hot, but quite dry. The average rainfall drops to anywhere from 0 mm to 50 mm (0 in to 2 in) per month. Daily high temperatures average at 30 °C to 32 °C (86 °F to 90 °F) and the weather therefore remains hot throughout the day. During the dry season, however, it can occasionally get a little cooler. Especially at night it can cool down a lot. The day's lowest temperatures average at 16 °C to 21 °C (61 °F to 70 °F).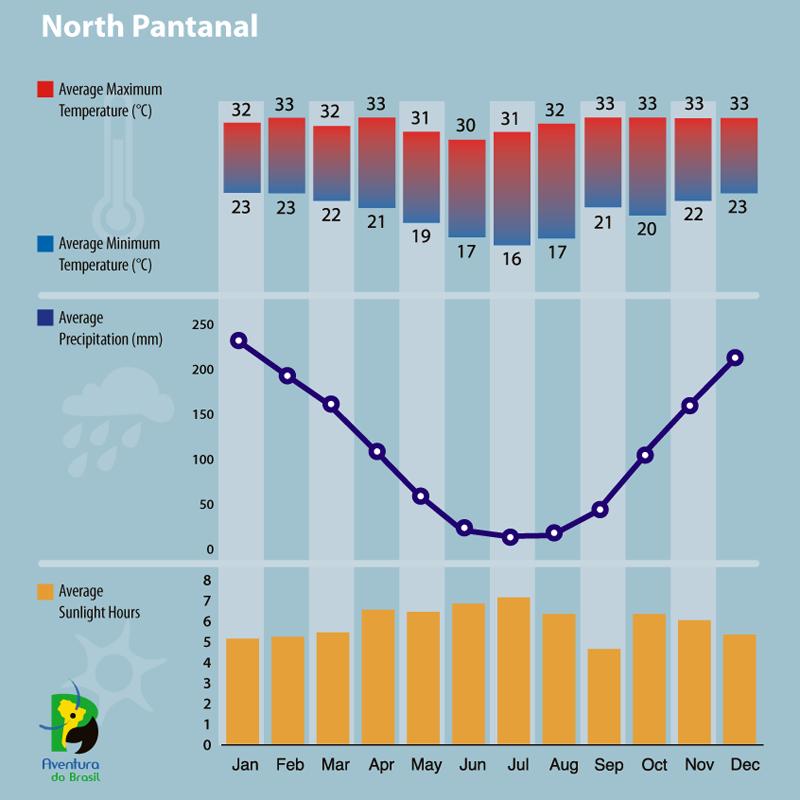 Best Time to Visit North Pantanal
In general, the North Pantanal is an attractive destination year round and the interesting vegetation can be admired at any time. The best time to go ultimately depends on your vacation preferences. We definitely recommend a Jaguar Safari for your visit.
To identify the best time for your trip to the North Pantanal, please note the following information:
During the rainy season, it can be difficult to travel to different regions due to the heavy rainfall, as the roads are sometimes not very well paved and become flooded. In addition, fewer animals may be observed and there are more mosquitoes. So we would advise against a visit in the Pantanal during that time.