Climate and Best Time to Visit Joao Pessoa, Brazil
If you are planning a trip toward the northern coast of Brazil, it would be advantageous to consider the local weather. In the case of Joao Pessoa, the capital of the state of Paraiba, the tropical climate is characterized by a relatively short dry season from September to January. During the other months of the year there is always a chance of heavy rainfall, which usually clears up quickly. Particularly in June, precipitation surpasses 300 mm (11.8 in). The dry season causes a steep drop to about 50 mm (2 in). It is hot year round and when it rains the humidity rises sharply, which can be unpleasant for travelers.
The winter months from May to September can bring cooler weather, although the difference in temperature is hardly noticeable. Temperature highs only drop from 30 °C (86 °F) to a modest 27 °C (81 °F). Nighttime temperatures also reflect the region's native tropical climate, with average lows at 21 °C (70 °F). Thus, travelers can confidently leave warm clothes at home and only take something light to put on for an evening walk along the coastline.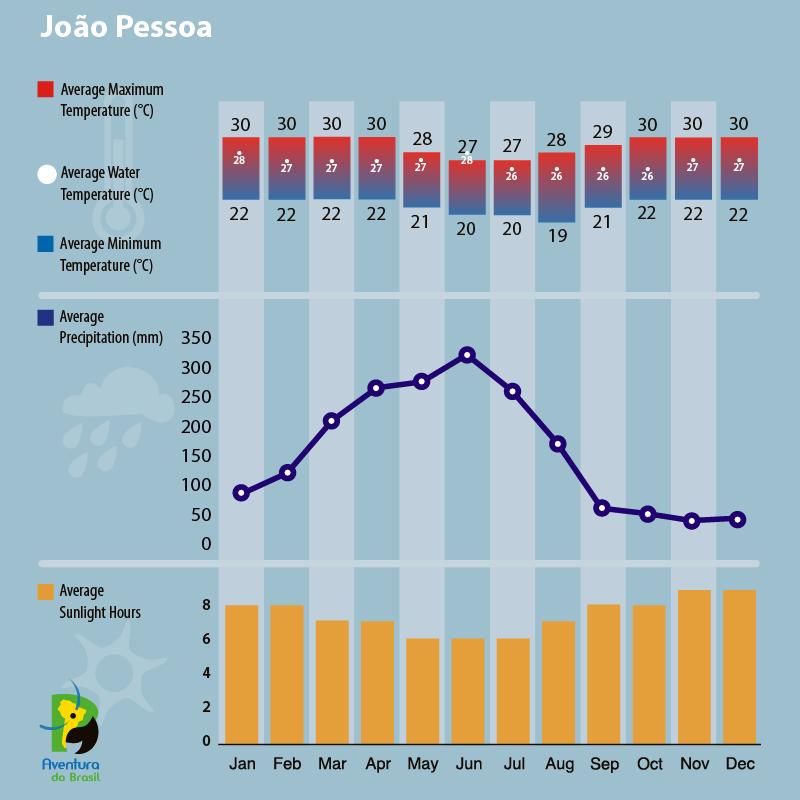 Best Time to Visit Joao Pessoa
Joao Pessoa attracts tourists year round with beautiful beaches and offshore reefs, which form natural pools and are fantastic for snorkeling. For an optimal experience with the best conditions in Joao Pessoa, the dry and transition months from August to February are the most ideal.