Climate and Best Time to Visit Bonito, Brazil
For optimal itinerary planning, we have summarized below some information about the regional climate and ideal times to travel.
Bonito's tropical climate is characterized by two seasons: the rainy season from October to March with rainfall up to 200 mm (7.9 in), and the dry season from April to September. During the driest months of June, July and August there is hardly any rain and precipitation falls below 50 mm (2 in).
In Bonito it is very warm year round, although the Brazilian summer in December, January and February is perceived by many travelers as hot and humid due to the thermometer rising well over 30 °C (86 °F) and along with a chance of heavy rainfall. During the dry season of winter, temperatures drop to a more pleasant 25 °C to 30 °C (77 °F to 86 °F). Clear nights can feel very refreshing with temperatures of 10 °C to 15 °C (50 °F to 59 °F).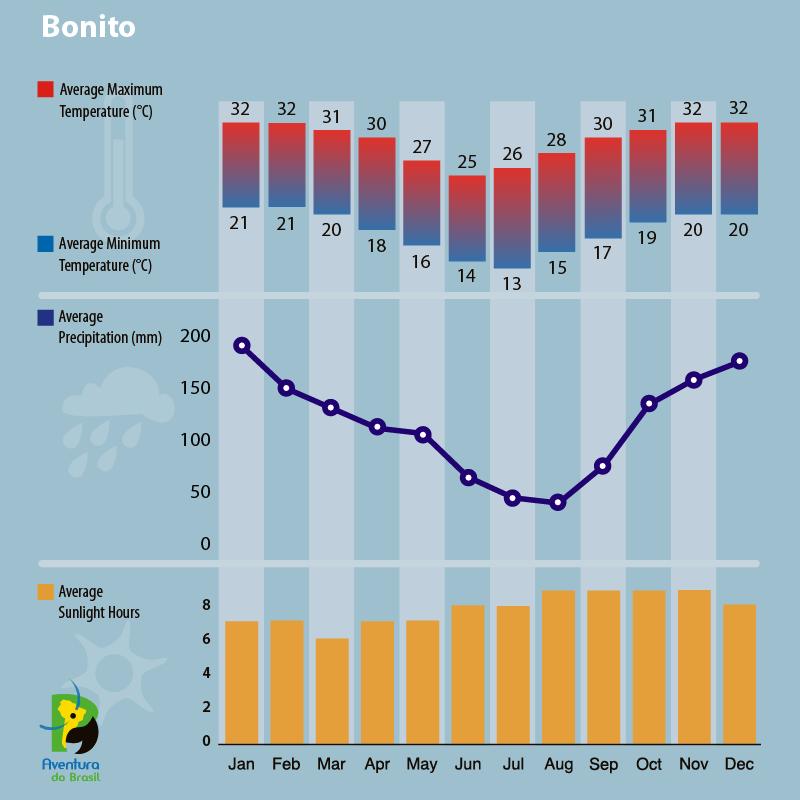 Best Time to Visit Bonito
Any time would be a good time to plan a trip to Bonito. During the rainy season from October to March, when temperatures easily clear 30 ºC (86 ºF), the landscape shines in fresh green and the rivers are filled with a lot of water. However, the rainfall can be very heavy, although it usually clears up quickly. This would not be the ideal time for snorkeling or visiting the blue grotto as the rain washes sediments into the water, tarnishing its crystal clear transparency.
In the middle of the dry season from June to mid-September it rains very rarely with cooler temperatures around 24 ºC (75 ºF). The rivers still carry enough water and you can snorkel in the clear streams and natural pools at your leisure.

6 Days of Nature, Wildlife Observation, and Snorkeling
Brazil | Campo Grande, South Pantanal, Bonito
This trip will take you to the natural paradise of the South Pantanal. You will also get to know the unique nature and crystal clear rivers near Bonito. The Pantanal is a vast area of wetlands and one of the largest nature reserves in the world. In the dry season, from June to October, you can explore the whole variety of the incomparable animal world and in the rainy season, from December to March, the beautiful flora reaches its peak. Let the fascinating biodiversity of the Pantanal enchant you!
4 Days of Adventure, Nature, and Snorkeling
Brazil | Bonito
During this 4-day trip to Bonito you will experience this natural paradise at its finest. You will snorkel in crystal clear rivers embedded into a wonderful landscape, visit a subterranean blue lagoon inside a cave, and go on a nature hike to observe the beautiful red macaw. Through the whole trip you will be accompanied by an English-speaking guide who is specialized in this area of Brazil.