Climate and Best Time to Visit Santarem, Brazil
To help you plan your trip to Santarem, here is some important information about the regional climate and ideal times to travel.
The city of Santarem is located in the North of Brazil and, due to its dense location on the equator, dominated by deep tropical climate. Temperatures hardly change, which is why the year is not divided into the seasons we know in Central Europe but rather into dry and rainy seasons.
Here you will find all the travel packages and further information about the region.
The dry season lasts from about July to December. Nevertheless, even during this time of year, rain showers can still be a problem. In comparison, average rainfall is quite low at 50 mm to 100 mm (2 in to 3.9 in) per month. Especially in the afternoons and evenings, there can often be showers. During this time you can also enjoy the maximum amount of daily sunlight (5 to 8 hours) on your trip in Santarem. Temperatures remain evenly warm to hot during the dry season with daily highs of 31 °C to 33 °C (88 °F to 91 °F) and lows of 23 °C to 24 °C (73 °F to 75 °F). Due to the very high humidity, sometimes above 90%, the hot weather is often perceived as muggy.
The rainy season lasts from about January to June. During this time, an average of 150 mm to 400 mm (5.9 in to 15.7 in) of rain is recorded per month. Temperatures are between 23 °C and 31 °C (73 °F to 88 °F), similar to the dry season. On your trip in Santarem, however, you will only experience between 3 and 6 hours of daily sunlight during the rainy season.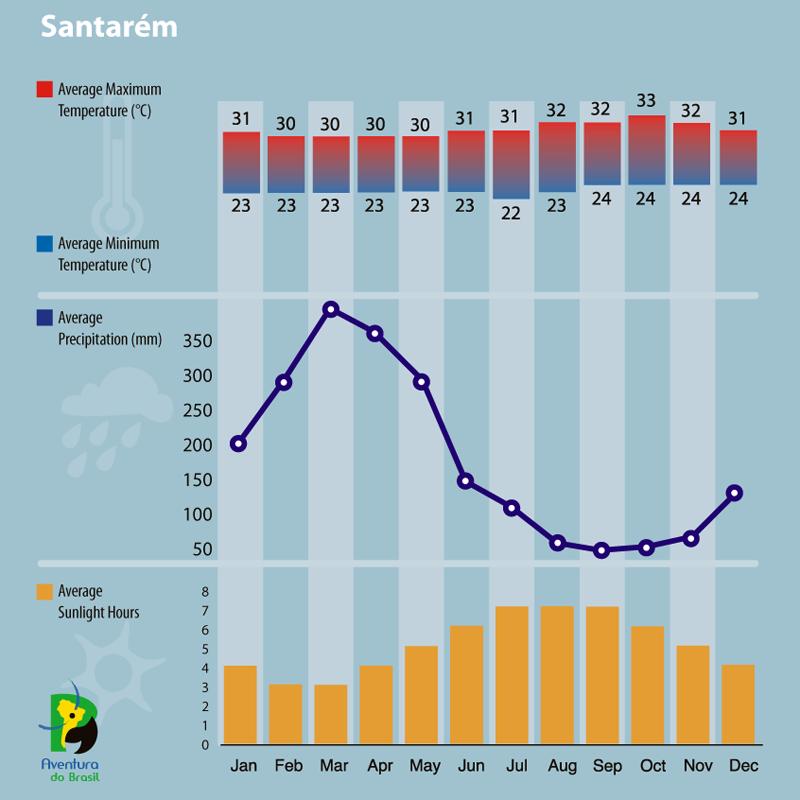 Best Time to Visit Santarem
In general, Santarem is an attractive tourist destination year round, with hot temperatures ranging from 22 °C to 33 °C (72 °F to 91 °F). Besides sightseeing, the city serves as a starting point for excursions in the Amazon rainforest. To make a determination about the best time to travel to Santarem, please note the following information:
The rainiest time of year is between December and May, yet constant rainfall in Santarem and in the Amazon should be expected during your trip.