Climate and best time to visit Alta Floresta, Brazil
To help you plan your Brazilian vacation in Alta Floresta (Mato Grosso State), we have compiled the most important information about the climate and the best time to visit this region of Alta Floresta and the Brazilian part of the Amazon rainforest.
In Alta Floresta there is a tropical, humid-hot climate due to the proximity of the equator. The temperatures do not vary much during the year. Therefore, Alta Floresta and the Amazon in general are categorized into dry and wet seasons. The dry season lasts between May to September and the rainy season is between October and April.
During the rainy season (October to April), the weather is hot and humid. During your trip to Alta Floresta you can expect an average rainfall of 190-410mm (7.5-16.1 in) per month. During these months, the temperatures reach a maximum of 31-34 °C (88-93 ºF) and only occasionally at night the temperatures drop to an average of 20-21 °C (68-70 º F). During the dry season you will only experience a few hours of daily sunshine (3-5 hours).
During the dry season (May to September), it does not rain much. The average rainfall during this season is only 0-110mm (0-4.3 in) per month. Temperatures fluctuate slightly more than during the rainy season, but the weather in Alta Floresta is still warm to hot, and tropical. There are average daily lows of 16-19 °C (61-66 ºF), while the highs during the dry season vary somewhere between 32-34 °C (90-93 ºF). Occasionally, at night it can get a little cooler, so if you are travelling during these months you should make sure to bring a warm jacket. In the dry season, you can enjoy an average of 5-8+ hours of sunshine per day during your holiday in Alta Floresta.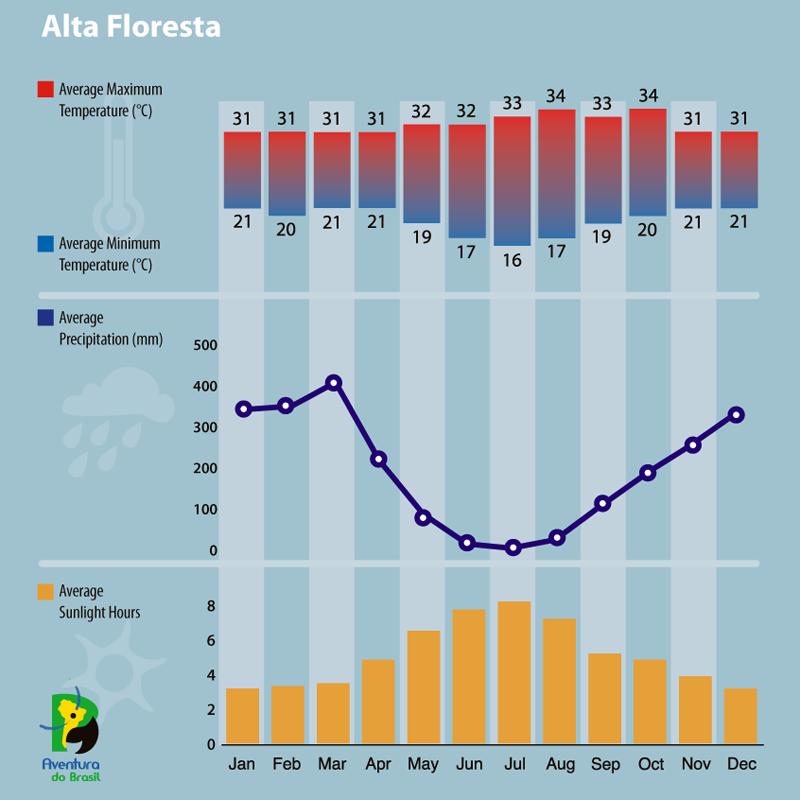 Best time to visit Alta Floresta
Alta Floresta is worth a visit all year round. During your holiday in the Amazon, you will be intrigued by the stunning vegetation and diversity of animals all year round. However, the best time to visit also depends on your holiday motives. During the rainy season, the weather is hot and humid. During these months you should make sure to pack a good rain jacket with you.
Lodge
Brazil | Alta Floresta
Cristalino Lodge is located in the state of Mato Grosso in the northwest of Brazil - more precisely in Alta Floresta, a small town in the Amazon region. Here you can experience nature and the unique Amazon Rainforest up close. Cristalino Lodge offers luxurious services and amenities, and is ideal for all travelers who are looking for a adventure with high standards.