Climate and Best Time to Visit Salvador, Brazil
For ideal planning of your trip to Salvador, we have compiled below some important information about the regional climate and ideal times to travel.
Salvador's tropical climate consistently offers warm to hot temperatures. Like most other regions of Brazil, Salvador is located in the southern hemisphere, meaning that the seasons are opposite of those we are used to in Central Europe. Summer therefore lasts from December to February and winter is from June to August. However, temperatures hardly differ, which is why the year is usually divided into rainy and dry seasons.
Here you can find all the travel packages and further information about the region.
During the rainy season, which usually lasts from March to August, there is a lot of precipitation with averages of 150 mm to 320 mm (5.9 in to 12.6 in) per month. Daily high temperatures are 26 °C to 30 °C (79 °F to 86 °F), and even on slightly cooler days low temperatures are still from 20 °C to 23 °C (68 °F to 73 °F). The weather in Salvador during the rainy season is therefore continuously warm to hot and very humid, which is why the weather is often perceived as muggy.
The dry season, from September to February, contrasts with very little rain. Average precipitation is 60 mm to 150 mm (2.4 in to 5.9 in) per month. Rain showers can still occur occasionally, especially in the late afternoon, and are usually very heavy. During the dry season the weather in Salvador is usually very hot with high temperatures averaging at 27 °C to 31 °C (81 °F to 88 °F). On some days it cools down a little, also due to the light breeze blowing in from the Atlantic, but daily low temperatures are only between 21 °C and 23 °C (70 °F to 73 °F).
Water temperatures in the Atlantic Ocean off the coast of Salvador are pleasantly warm throughout the year, averaging from 26 °C to 29 °C (79 °F to 84 °F). This coastal city is therefore an attractive destination for a beach getaway in Brazil year round.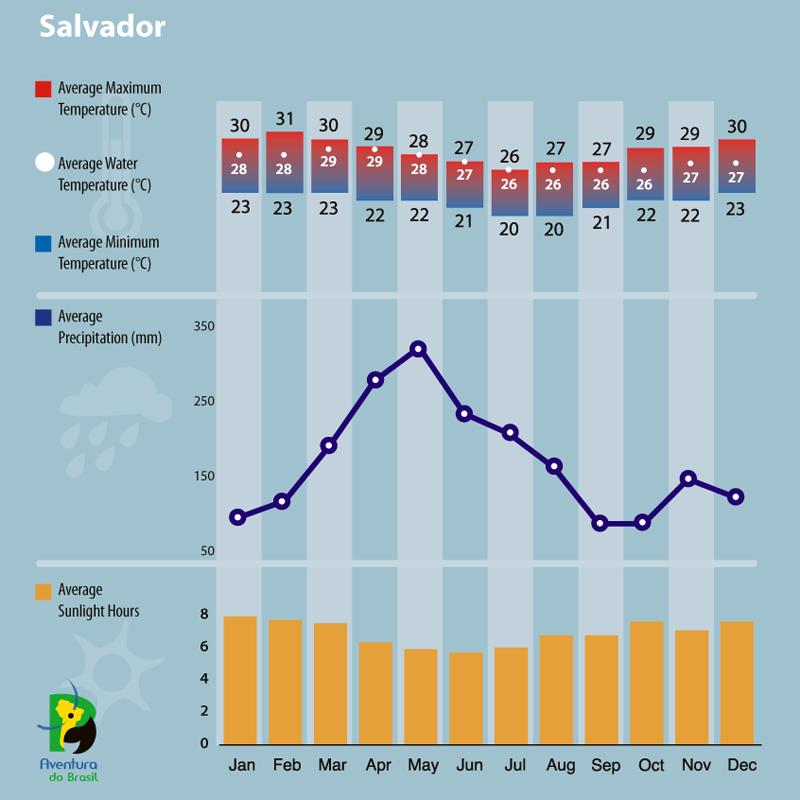 Best Time to Visit Salvador
Salvador is generally worth a visit year round due to its warm climate and pleasant water temperatures. However, the best time for your trip also depends on your vacation preferences. Please note the following information:
Temperatures are very warm to hot year round. It usually never gets cold, only in the winter from June to August can cooler temperatures occasionally set in. we recommend the Pousada Barroco na Bahia and the Pousada Solar dos Deuses for your stay.