Climate and Best Time to Visit Nilo Pecanha, Brazil
For ideal planning of your trip to Nilo Pecanha, we have compiled below some important information about the regional climate and ideal times to travel.
Nilo Pecanha is located in the state of Bahia and is dominated by tropical climate. Since temperatures remain quite similar throughout the year with continuous warm to hot weather, the year is not divided into the seasons we know in Europe, but rather into rainy and dry seasons.
Here you can find all the travel packages and further information about the region.
The rainy season lasts from February to July and is usually stamped by hot and humid weather. Average rainfall is from 190 mm to 220 mm (7.5 in to 8.7 in) per month with daytime high temperatures reaching 26 °C to 30 °C (79 °F to 86 °F). Occasionally there are also a few cooler days when daytime lows balance around 19 °C to 23 °C (66 °F to 73 °F). During your vacation in Nilo Pecanha you can experience an average of 5 to 7 hours of daily sunlight throughout the rainy season.
During the dry season, which lasts from August to January, the weather offers you equally warm temperatures with less precipitation. Daytime high temperatures average at 27 °C to 30 °C (81 °F to 86 °F) and even in slightly cooler periods the temperature high is still warm at 21 °C to 23 °C (70 °C to 73 °F). Rainfall during the dry season is lower than during the rainy season, but is still relatively high with 140 mm to 170 mm (5.5 in to 6.7 in) of rain per month. You can enjoy between 6 and 7 hours of daily sunlight during the dry season in Nilo Pecanha.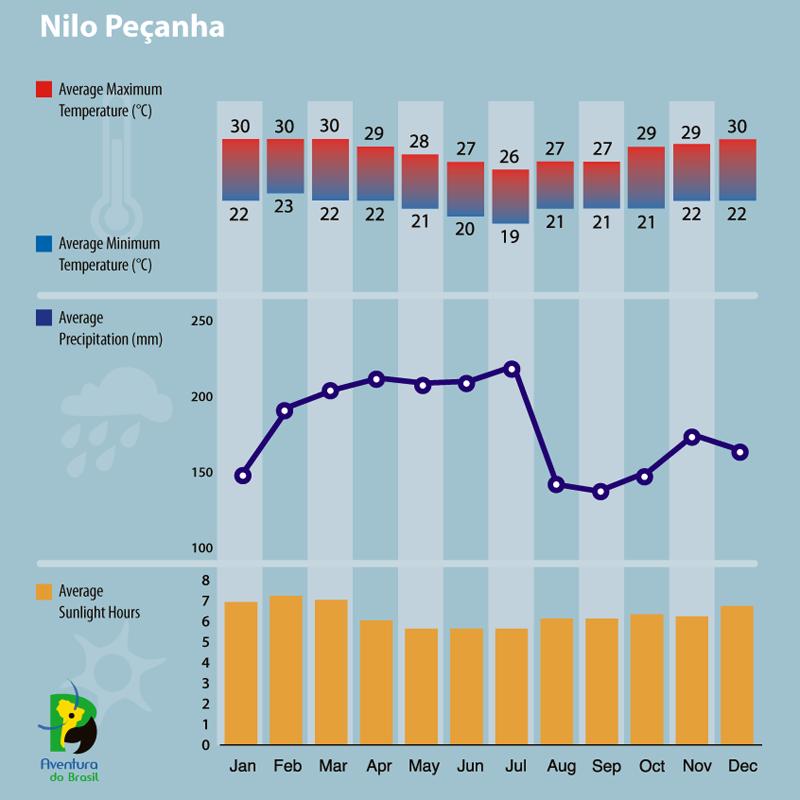 Best Time to Visit Nilo Pecanha
In general, Nilo Pecanha is an attractive destination year round, especially for nature lovers. Due to the tropical climate, you should be aware that there can be heavy rainfall year round as well, especially during the rainy season from February to July. However, the high temperatures are very suitable for your trip throughout the year. We recomend a stay at the Rainforest Lodge Rio das Matas. The best time to travel depends on your vacation preferences.
In order to identify the best time for your trip in Nilo Pecanha, please note the following information: During the rainy season from February to July it rains heavily. Be sure to have adequate rain gear with you.