Climate and Best Time to Visit South Pantanal, Brazil
To help you plan your trip to the South Pantanal, we have compiled below some important information about the regional climate and ideal times to travel.
The South Pantanal, like most regions of Brazil, is located in the southern hemisphere. Therefore, the seasons are the opposite of those we are used to in Central Europe. Summer lasts from December to February and winter from June to August. Due to the subtropical climate, however, the weather remains warm to hot year round.
Here you can find all the travel packages and further information about the region.
In the hot and humid summer, daily high temperatures are between 29 °C and 30 °C (84 °F to 86 °F) and low temperatures average around 19 °C to 20 °C (66 °F to 68 °F). During the summer from December to February, it rains a lot with average precipitation around 180 mm to 240 mm (7.1 in to 9.4 in) per month.
Fall, from March to May, brings warm to hot weather with average rainfall in the South Pantanal. Daily high temperatures remain upwards of 27 °C to 30 °C (81 °F to 86 °F). From time to time it can get a little cooler with low temperatures of 15 °C to 18 °C (59 °F to 64 °F). There is an average of 90 mm to 160 mm (3.5 in to 6.3 in) of rain per month.
Winter is dry and warm with average rainfall of only 30 mm to 50 mm (1.2 in to 2 in) per month. Usually the days in the winter, spanning from June to August, are warm with daily high temperatures of 26 °C to 28 °C (79 °F to 82 °F). Occasionally it can cool down a little, especially at night. Daily low temperatures are at a modest 13 °C to 15 °C (55 °F to 59 °F).
In the spring, from September to November, the weather in the South Pantanal is also warm to hot with average rainfall. During this time, temperatures vary between 17 °C and 30 °C (63 °F to 86 °F). Frequent rain showers can occur with averages of 60 mm to 160 mm (2.4 in to 6.3 in) of precipitation per month.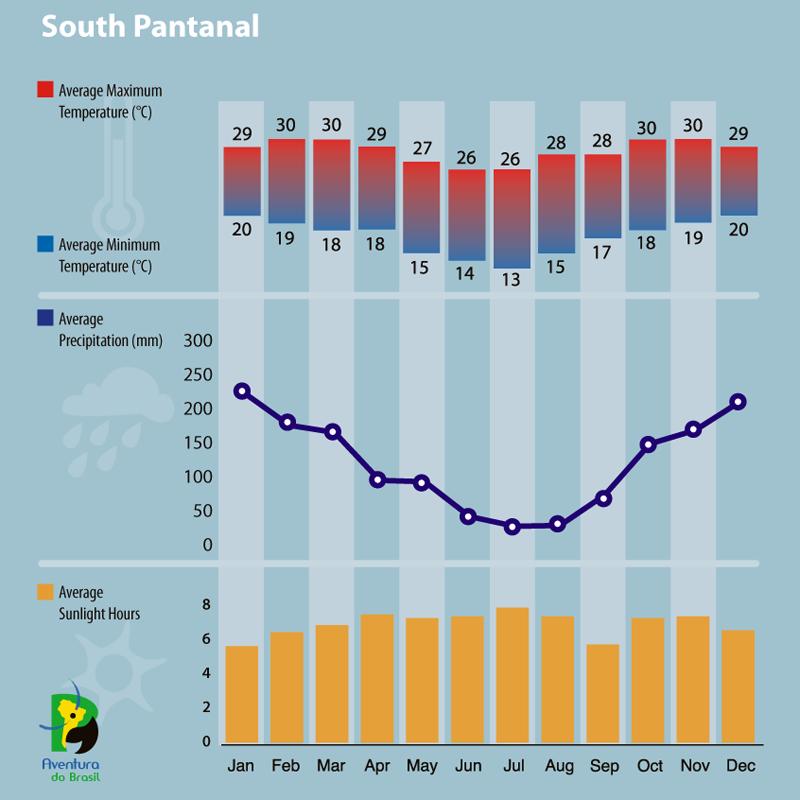 Best Time to Visit South Pantanal
In general, the South Pantanal is an interesting year-round destination to discover the rich flora and fauna. The small town Bonito is a perfect spot for all kind of outdoor activities.
The best time to visit depends on your vacation preferences. In order to identify that time, please heed the following:
During the rainy season there are often heavy showers. As a result, it can be difficult to travel to some regions as the roads are sometimes flooded and not easily passable. It is also more difficult to spot animals during this time.